The beginning of fall pheasant season always adds excitement to the upland hunting world. C'mon, even Tom Brokaw did a show on the "orange army" that invades South Dakota each October to do a blitzkrieg across a prairie corn field. For many this is the only weekend that they will get out in the uplands. I think it is unfortunate that is the experience they relate to upland hunting but I am happy they enjoy it. To my taste, which I admit are not mainstream, hunting is meant to be done with a flusher or pointy dog. Four people maximum, two is even better. Pointing a rooster from a coulee or fence row, hearing that go to hell cackle right in our face is like the cream in Boston Cream Pie. It's just pie without the cream. I relate the forced marches as no more than killing fields, where a tailgate shot with a pile of dead birds is the ultimate goal. Are you watching your dog or your buddy's dog to see if he is getting bird or are you making sure you are in a straight line. Maybe your dog can pin an old wiley dragon in a fence corner and as he gives you the old eff you call, you and your dog panic and try to collect yourself and make a responsible shot. Or you can be the blocker in a march and hope you aren't the one getting shot.
As I said, these are just my opinions and they are not necessarily right or wrong. Hell, Cabelas and every dime ass motel and diner on the prairie disagree with me. Either way, chasing prairie dragons on a fall day is hard to beat. Montana coulees, Dakota grain fields, or Kansas old homesteads are what prairie upland memories are made of.
This year's chapter brought memories that we will not soon forget. In the pictures below, you'll see our wonderful boykin Cap'n after a two mile round trip hike to get to a patch of weeds in a harvested wheat field in Montana. The flush of that Chinese Dragon ended our Montana season with a hard earned public land limit of pheasants. Jack My Dog and Belle with a beauty of a point on a rooster that we shot with our friends from The Netherlands. Also, watching their English Setters work a field was eye opening. Same breed of dog but that is about the only thing that was the same. The
appreciation that they had of our opportunities afield was refreshing. Susan's much maligned setter Hazel working a Kansas rooster half a mile across a milo field before finally out flanking it was also really special. William's dog Pierre got a rare hunting trip and it took only one day for him to become a bird dog again. I look forward to more trips with Pierre next season.
Lodging is always an adventure and we had it on both sides of the spectrum. From the fantastic turn of the century hotel on the Missouri river to the buggy, doublewide shrine to Schmitt Beer in South Dakota, (that with two female hunters was trip shortening to say the least). Beware of a doublewide behind a rural bar that calls itself a lodge! We also found a beer in Kansas that had a great story about a brewer that has had enough of working on someone else's beer and opened his own brewery, easily besting his past employers product. I'm in no hurry for next year, my minds eye is still gathering up this years treasures.
Cap'n
Bell and Jack
EuroSetter
Missouri River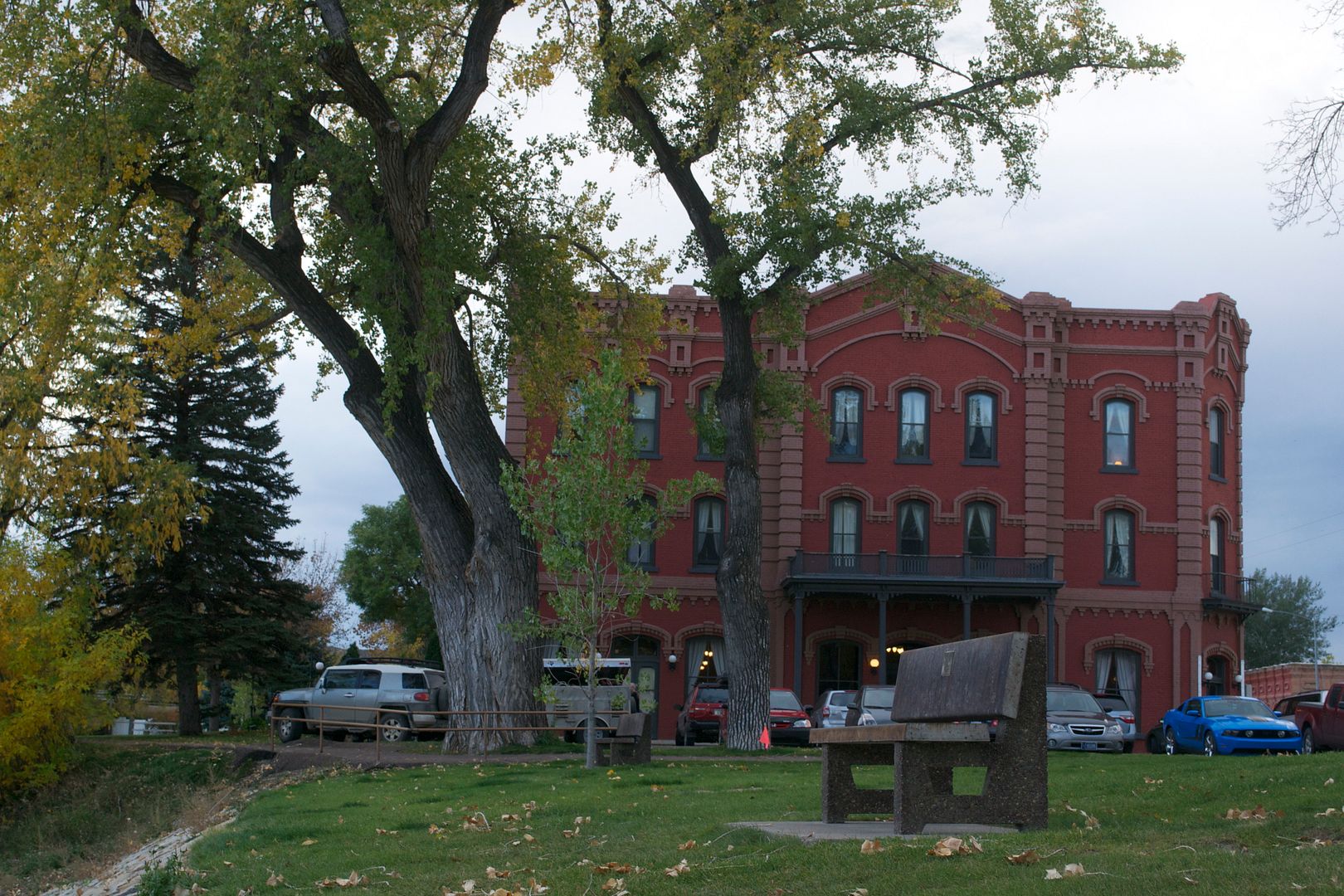 Hotel on the Missouri

"Schmidt Lodge"
Now in case you have forgotten. I'm banging my drum again. Today there is a film crew and protest showing the raised levels of E'Coli on the Buffalo National River here. How long before the signs come up "no swimming, river full of pig shit". That ought to bring in the Yankee dollar to rural Arkansas, don't you think. Outdoor enthusiasts all across the west are being threatened by either the proposed taking of federal lands and turning them over to the states Or selling the lands to the 1%ers. A state can make a whole hell of a lot more tax money selling lots and mining rights than just the criminal dime a grazing fee generates. How long will your favorite coulee, backpacking trail or fishing stream last in this? If that's not enough to make you sick at your stomach, some local politicians are doing everything they can to sell state and federal land to the new Robber Barons of America. Check out what is happening in Wisconsin, Montana and Utah.
http://www.hcn.org/article.
or,
Exposing the effort to seize America's public land...The Hatch Magazine
,
http://www.hcn.org/article....m=email
and this,
www.startribune.com/politics/national/294831721.html
Be a voice. Be an activist. You can help if you will take the time to make a call or write a letter. It will make you feel good and it might help. Elections matter. Find a conservation friendly politician and volunteer. They are on both sides of the aisle. Just look for the guy or gal that's not in the local Chamber of Commerce or in Farm Bureau 's pocket. Its not an easy task I know. Do something.
If you read nothing else, read Chad Loves blog and send it to as many people as you can. It might hit the right eyes.
http://mallardofdiscontent.blogspot.com
.
My favorite new music is Robert Earl Keens new bluegrass album, Happy Prisoner: the bluegrass sessions and Ralph Stanley and friends Man of Constant Sorrow. They are damn fine foot stomping, guitar picking, banjo plucking, fiddle sawing music. I'll think I'll have a Defiance Brewing Company Willy Nilly golden Ale and crank up the volume.